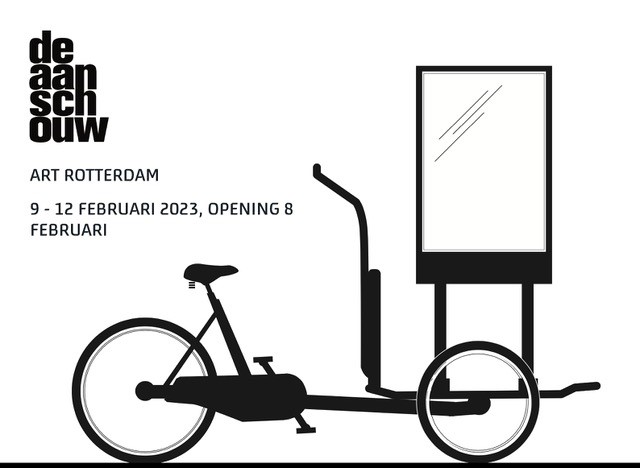 De Aanschouw is arguably the most famous, and definitely the tiniest gallery of Rotterdam. Every week a new work of art is presented in their window display showcase at Café de Schouw, at the infamous Witte de Withstraat in Rotterdam. And if you think an opening once a week is a lot, think again!
During Art Rotterdam 2023 De Aanschouw presents De Aanschouw on Wheels! In a cargo bike across the fair entrance, De Aanschouw on Wheels will present a new work of art every fifteen minutes. Yes, you read that right: every fifteen minutes! That's a lot of art, and a lot of fun openings!
Marie Pop will also be part of this extravaganza! Join us all on Thursday 9 February at De Aanschouw on Wheels for our opening at 16.45 h (4.45 pm), it will be short but sweet – I shall take the opportunity to tell you about my upcoming shows and series, and we'll raise our glasses to the arts and the future!
See you art Art Rotterdam! De Aanschouw on Wheels will be located across the entrance of the Art Rotterdam art fair, at the main building of the Van Nellefabriek. You won't need a ticket for De Aanschouw on Wheels.